Shark tagging data
The eastern Mediterranean Sea is an ultraoligotrophic water body that is also experiencing the most severe effects of climate change. However, marine predators are still present in this basin, and researchers do not understand why they aggregate in certain locations, at certain times of the year. At its furthermost reach, Israel is the only country that protects all elasmobranch species within its maritime borders. Since 2016, Dr. Scheinin and his tagging team have caught, sampled, and successfully released over 80 sharks (the dusky and sandbar species, Carcharhinus obscurus and C. plumbeus, respectively) near the site of the power plant in Hadera, Israel. Here, these two shark species aggregate around the warm water effluent from coastal power stations, making access ideal for studying them. When a shark is caught, the team collects biological, morphometric, and passive acoustic data to estimate the health and distribution of both species. This is the only lab with a dedicated long-term catch-and-release programme in the Mediterranean Sea. In the upcoming year, this lab will host a pilot 'training school' for other apex predator researchers in the Mediterranean to learn our catch-and-release protocol.
Each shark has been tagged with Thelma Biotel transmitters and a passive integrated transponder tag (PIT tags), and his team has deployed a network of 10-15 passive acoustic receivers (fixed) in areas of known aggregations along the Israeli coastal shelf. From this data, Dr Scheinin carefully built strong collaborations with shark researchers across the eastern Mediterranean, to disseminate records and pinpoint crucial habitats that sandbar and dusky sharks are using. This team determined that the female dusky sharks are pregnant and might use these warm waters to assist embryonic development in their early gestational stage. This, alongside the expansion of our current movement study further west, are the direction of the lab over the next few years.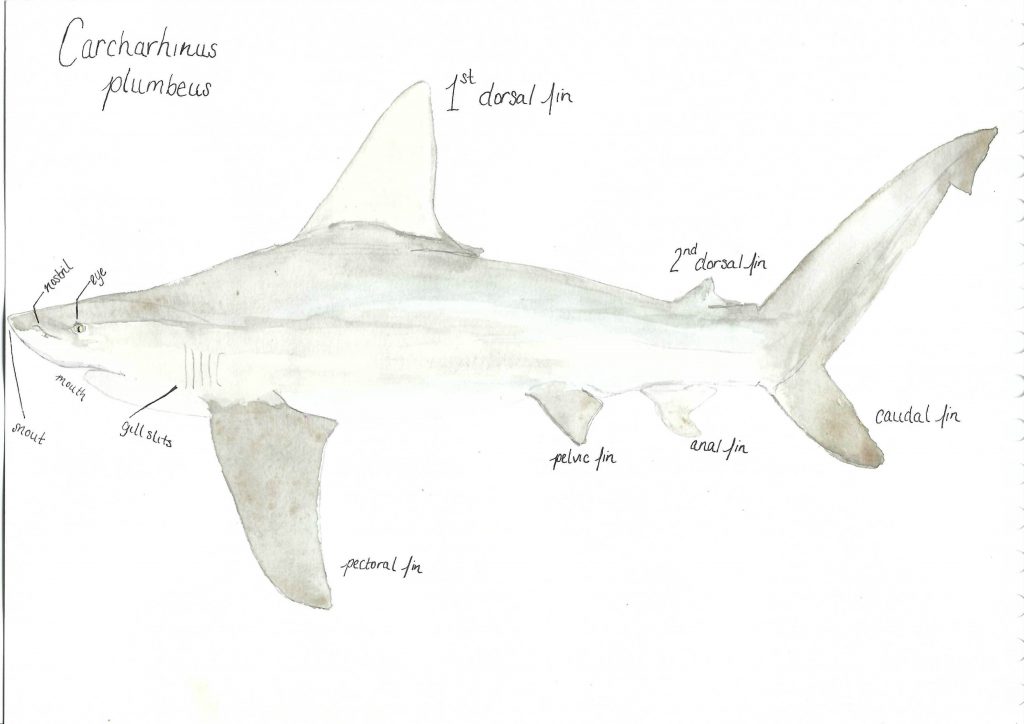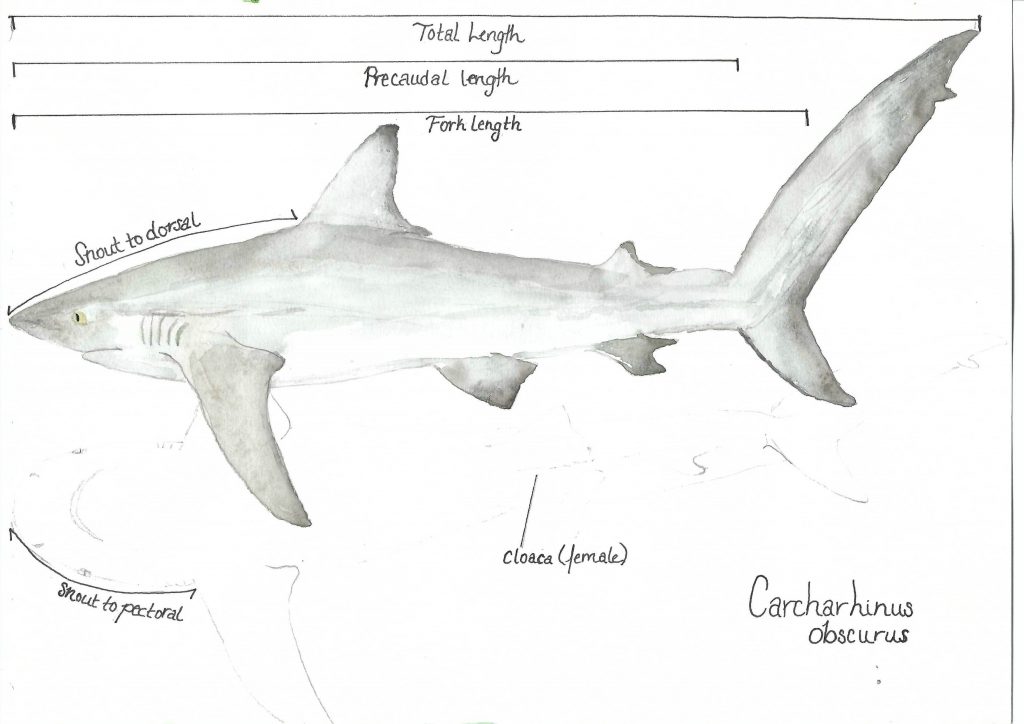 The drawings above illustrate the measurements we take near the end of the 'workup' of the shark whilst s/he is still alongside the vessels. These measurements are called morphometrics, which are quantitative measurements of the shape and size of the shark. We can use these physical characteristics during analysis to better understand the shark's biology and behaviour. We can also use morphometrics to help differentiate between similar species (taxonomy) and estimate the size and structure of the population. In conservation and ecological studies, this data helps understand how the shark moves through the water, forages, and if current protection measures in force are effective. This data is crucial to assisting scientists in ensuring the aggregation's survival. 
Contact us
For more information and assistance on this data, please contact:
Reference:
If you find the data usefull and use it for presentation or else, please credit us with a link to our site as follows:
Data from the Morris Kahn marine Research Station: https://med-lter.haifa.ac.il/